Black Bloc Anarchists Arrested in Chicago on Terrorism Charges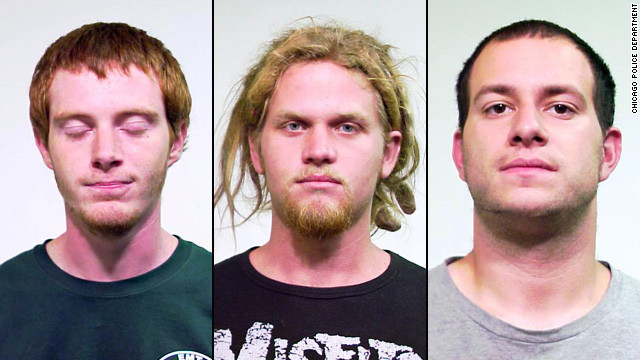 "Lawyers for Brian Church, 20, of Ft. Lauderdale, Fla.; Jared Chase, 24, of Keene, New Hampshire; and Brent Vincent Betterly, 24, of Oakland Park, Fla., insist the only thing inside that apartment was beer-making equipment.
Authorities said four completed Molotov cocktails were seized by police along with other weapons and instructions on how to make pipe bombs."---
CBS Chicago (5-19-12)
Prosecutors said the men were self-described anarchists who boasted weeks earlier about the damage they would do in Chicago, including one who declared, "After NATO, the city will never be the same."
At one point, one of the suspects asked the others if they had ever seen a "cop on fire."
The Chicago Tribune
(5-17-12)
reports that on Thursday, the day after the arrests, that Chicago FBI spokesman Ross Rice reportedly said that there was "absolutely no indication" of a terrorist attack threat in Chicago. It is hard to know what to make of this statement in light of the fact that alleged terrorists were arrested the day before by the police and F.B. I. So far, the Chicago FBI spokesman Royden "Ross Rice" has not announced the arrest of these anarchists on the Chicago FBI's
Press Room
site.